Andrea Orzoff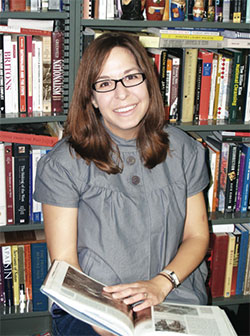 Contact Info:
575-646-4612
Education:
B.S.J., Medill School of Journalism, Northwestern University
M.A., Stanford University
Ph.D., Stanford University
External Links: KRWG Interview about Dr. Orzoff's 2009 book
Research and Teaching Interests:
Central and East European history, Holocaust history, First and Second World Wars, transnational history, history of migration, history of minorities in Europe; cultural diplomacy, propaganda; politics of high culture.
Andrea Orzoff is an associate professor of European history at New Mexico State University. She completed her doctorate from Stanford University in 2000. Her book Battle for the Castle: The Myth of Czechoslovakia in Europe, 1914-1948 (Oxford University Press, 2009) is out in paperback, reviewed extensively, and praised in The Atlantic and the New York Review of Books.
Dr. Orzoff's current interests lie in transnational history and the German-speaking world. She will be on leave for the calendar year 2016 on a fellowship from the American Council of Learned Societies to work on her current book, Music in Flight, which focuses on Central European musicians who fled Nazism for Latin America. Music in Flight addresses the Holocaust in global context as well as the transnational impact of German culture. She has just finished a set of articles on the German-speaking chapters of the International PEN Club during the Cold War. Her next book will focus on defectors to Communist East Germany.
Orzoff's articles on international organizations, East and Central European nationalism, cultural diplomacy, and propaganda and the mass media have appeared in German History, Slavic Review, the Austrian History Yearbook, Nationalities Papers, and elsewhere. She has been an invited or keynote speaker at Cornell University, the University of Oxford, Trinity College (Dublin), and Berlin's Freie Universität. She has held a Senior Fulbright Fellowship to Berlin, Germany, awards from the National Endowment for the Humanities and the American Council of Learned Societies, an IREX Independent Opportunity Research Grant, and a Deutscher Akademischer Austauschdienst (DAAD) Research Fellowship, among other honors.
Selected Publications: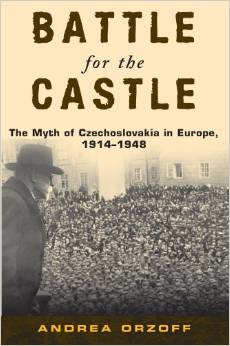 Music in Flight: Exiles, Refugees, Fugitives, and the Politics of Music in Latin America, 1933-1960, in progress.
"Erich Kleiber and Wartime Flight: Musical Homecomings in the Early Cold War," in progress.
"Interwar Democracy and the League of Nations," Oxford Handbook of Interwar Europe, forthcoming 2016.
"Eggs and Steam Hammers: The International PEN Club, Wolf Biermann, and the Limits of East German Literary Politics," New German Critique, forthcoming.
"Writing Across the Wall: The German PEN Clubs and East-West Dialogue, 1964-1968," German History 33/2 (2015): 232-254.
"Das Personal und das Vocabular der Demokratie: Die Erste Tschechoslowakische Republik," in Tim Müller and Adam Tooze, eds., Normalität und Fragilität: Demokratie nach dem Ersten Weltkrieg (Hamburg: Hamburger Edition, 2015): 436-463.
Battle for the Castle: The Myth of Czechoslovakia in Europe, 1914-1948. Oxford University Press, New York, 2009. Paperback edition issued 2011.
"The Husbandman: The Interwar Personality Cult of Tomáš Garrigue Masaryk,"Austrian History Yearbook 39 (2008): 121-137.
"'The Literary Organ of Politics': Tomáš Masaryk and Political Journalism, 1925-1929," Slavic Review 63/2 (Summer 2004): 275-300.
"The Empire Without Qualities: Austro-Hungarian Newspapers and the Outbreak of War in 1914,"in Troy Paddock, ed., A Call to Arms: Propaganda, Public Opinion, and Newspapers in the Great War, Praeger Press (2004): 161-198.
Courses:
Modern Europe; Modern Germany; Holocaust; World War I; The European City; The Global Cold War; seminars on the history of race and ethnicity in modern Europe as well as European thought and culture.